EVERY DAY MEXICAN FOOD RECIPES
Sopa Tarasca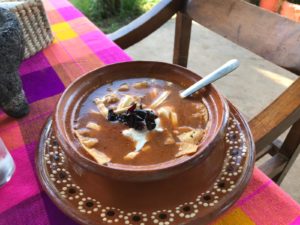 Ingredients
1 pound dried pinto beans, soaked overnight
2 tablespoons canola oil
1 ½ cups diced onions
4 cloves garlic, minced
2 teaspoons ground cumin
1 teaspoon chili powder
6 cups water
3 dried ancho chiles (see Tip), stemmed and seeded
1 (28 ounce) can whole tomatoes
1 teaspoon salt
¼ teaspoon ground pepper
1 ripe avocado, sliced
Crumbled queso fresco, lime wedges & tortilla chips for garnish
Step 1
Drain and rinse beans then boil until the beans are tender. Drain the beans and keep the water
Step 2
Heat oil in a large pot over medium-high heat. Add onions and cook 3 to 5 minutes. Add garlic, cumin and chili powder Reduce heat to maintain a simmer
Step 3
Meanwhile, soak chiles in boiling water until the skins have softened, about 15 minutes. Drain and chop.
Step 4
Add the chiles, tomatoes and their juice, salt and pepper then add the boiled beans with its water. Puree the soup in a regular blender until very smooth. Serve topped with avocado and garnished with queso fresco, limes and tortilla chips, if desired.
Salsa Verde Chilaquiles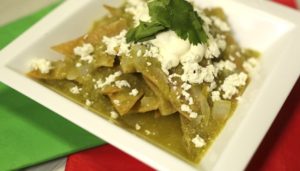 Ingredients
1 cup vegetable oil
12 corn tortillas, quartered
1 (16-ounce) jar HERDEZ Salsa Verde
2 tablespoons chopped red onion
2 tablespoons Cotija or queso fresco
Mexican Sour Cream
Salt to taste
In a large skillet, over medium-high heat, heat oil.
Working in batches, add tortillas, frying until golden brown.
Remove to paper towel lined plate.
Sprinkle with salt.
Remove all but 2 tablespoons of oil from pan. Add salsa and bring to a simmer.
Add fried tortillas and cook 2 to 3 minutes, stirring gently, until well-coated and heated through.
Top with red onion, cheese, and crema.
Guajillo Pork Ribs
Ingredients
4 lbs pork side ribs
1 large yellow onion, rougly sliced
4 dried guajillo chiles, stems and seeds removed
4 garlic cloves
2 tablespoons extra virgin olive oil
1 tablespoon lime juice
1/2 cup vegetable broth or water
salt and pepper to taste
Place dried guajillo chiles in a bowl and cover with hot water. Let sit for around 20-30 minutes until soft.
Add your softened ancho chiles, garlic cloves, olive oil, lime and salt and pepper in your food processor and puree.
Pre-heat the oven to 400 Farenheit degrees
Place onions in the bottom of a roast pan and add your water or broth.
Stack the side ribs on top of onions then pour the guajillo sauce on top.
Top with a bit more salt.
Cover and let cook for about 60 minutes or until ribs are fully cooked.
Serve with rice or pasta